Cellular Shades
Bali AutoView Motorization
⅜" Double Cell Cellular Shades with Cordless Lift: Northern Lights, White Cranberry 2444 and Fabric-Wrapped Valance: Eli, Oyster Shell 2881
⅜" Double Cell Cellular Shades with Cord Lift: Northern Lights, Ocean Liner 2459
¾" Single Cell Cellular Shades with Motorized Lift: Legacy, Hiking Trail 2715
¾" Single Cell Cellular Shades with AutoView Motorized Lift: Legacy, Hiking Trail 2715
Windows: ¾" Single Cell Sun Up/Sun Down Cellular Shades with Cordless Lift: Sheer Bliss, Buff 2152 (top) and Cosmopolitan, Fireplace Brick 2861 (bottom) Doors: ¾" Single Cell VertiCell Cellular Shade: Cosmopolitan, Fireplace Brick 2861
⅜" Double Cell Cellular Shades with Cordless Lift (Three on One Headrail): Midnight, Sky Blue 3829
Cordless Sun Up/Sun Down Cellular Shade in ⅜" Double Cell Northern Lights, Cotton 2401 (top) and ⅜" Double Cell Midnight, Falcon 3847 (bottom)
Previous
Next
Bali Cellular Shades are durable, multi-tasking shades that pair easily with any décor. (And one of our most popular window treatments!)
Color. Our cellular shades are crafted with soft fabrics in smart colors and subtle patterns. No matter your style—from traditional to modern (or an eclectic mix all your own!)—you'll find a Bali Cellular Shade you love.
Energy efficiency. Our expertly engineered custom cellular shades trap air in their honeycomb-shaped cells to add a layer of insulation to your home. These energy efficient shades block up to 56% of the sun's heat from getting inside and prevent up to 22% of your winter heat from escaping—saving money on your energy bills in every weather.
Light control. Our four opacity levels—sheer, light filtering, room darkening, and blackout—allow just-right sunlight in every room.
Bali Cellular Shades come with a non-rusting aluminum headrail color coordinated with your fabric for a clean, finished look.
Product Features

Energy Efficiency

Safe For Kids

Motorized Lift

Economical
VertiCell Cellular Shades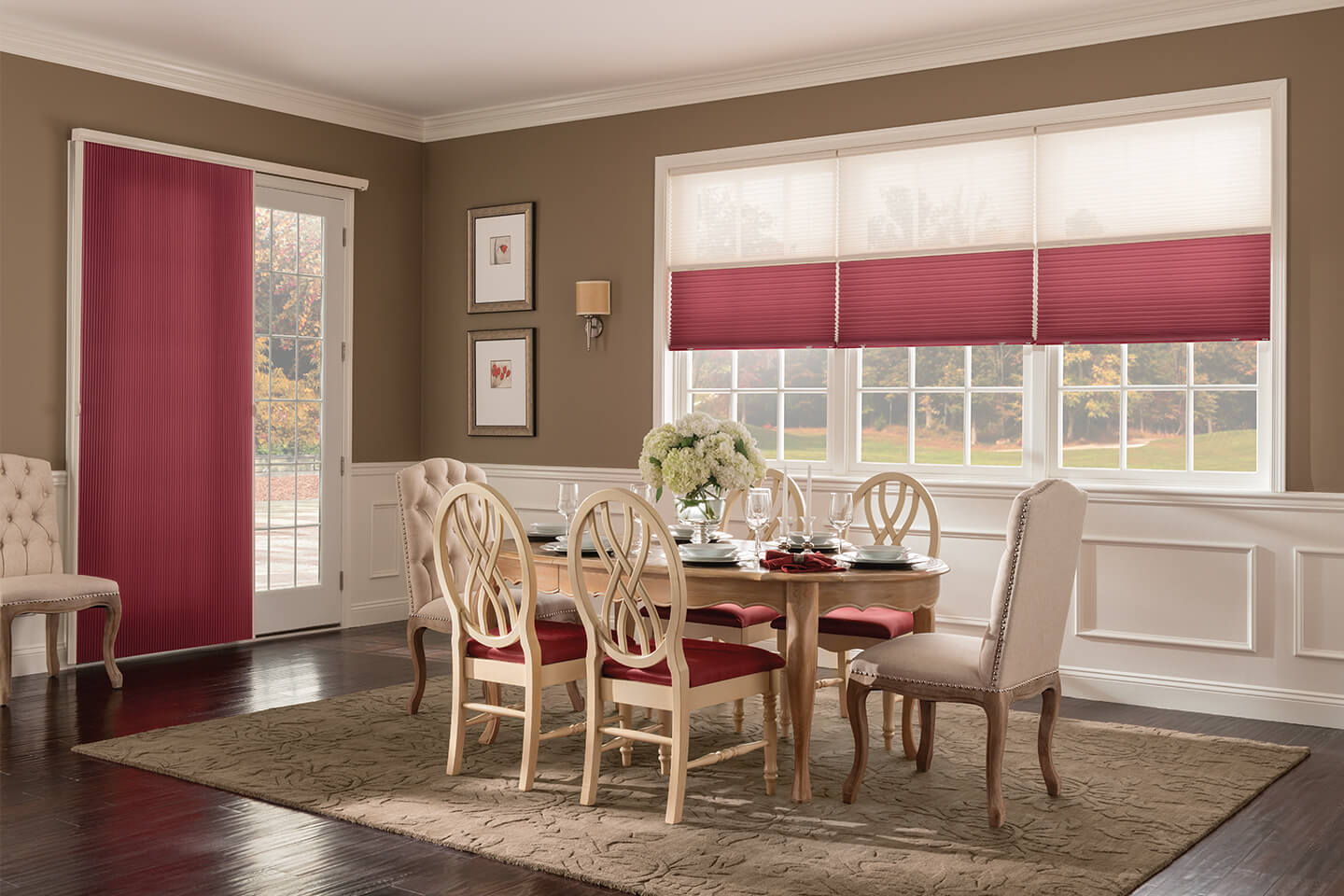 Decorate, Insulate & Save!
Our vertical cellular shades have honeycomb-shaped cells to trap air and help insulate your home. In fact, Bali VertiCell Cellular Shades slash summer heat gain by up to 56% and reduce winter heat loss by up to 22%. * Enjoy the energy efficiency and explore new colors, cell sizes, and patterns today! VertiCell Cellular Shades offer the same energy efficiency as cellular shades but are designed to cover wide windows and patio doors.
*Based on third-party testing by Architectural Testing Incorporated

Experience New Colors, Textures, and Styles
See it, feel it, fall in love with it! Start your project today with free color swatch samples.
Order Free Swatches

DIY at Your Fingertips: Measuring, Installation, and More!
Find out how simple DIY can really be.
Visit the How-To Center