Cellular Shades
1 ¼" Single Cell Cellular Shades with Motorized Lift: Halo, Gray Whisper 0120
Windows: ¾" Single Cell Cellular Shades with Cordless Lift: Luxe, Kahlua Khaki 0134. Drapery: Decorative Panels with Back Tabs: Lancaster, Sidewalk 6121. Hardware: 1" Pole in Brushed Nickel 442
⅜" Single Cell Cellular Shades with Cordless Lift: Sunrise, Desert Taupe 5810
¾" Single Cell Cellular Shades with Motorized Lift: Sheer Bliss, Powder 2150
½" Double Cell Cellular Shades with Motorized Lift: Hideaway, Garden Stone 1475
Windows: ½" Double Cell Cellular Shades with Motorized Lift: Halo, Garden Stone 1568. Door: ½" Double Cell VertiCell Cellular Shades: Halo, Garden Stone 1568
½" Double Cell Cellular Shades with Cordless Lift: Hideaway, Fresh Lavender 1473 with 12" Fabric-Wrapped Curved Cornice: Colletti, Blizzard 6790
Windows: Bottom Up/Top Down Shades with Cordless Lift: ½" Double Cell Cellular Shades: Hideaway, Red Velvet 1458. Drapery: Decorative Panels in Two Width with Grommet Top TT: Dupree, Firecracker 6911. Hardware: 1 ⅜" Wood Traverse Pole with Carrier in Regal Walnut 409
½" Double Cell Cellular Shades with Motorized Lift: Halo, Atlantic Blue 1566
Windows: Combo Shade with Cordless Lift: ¾" Single Cell Shades: Impresario, Sandstone Gray 0590 (bottom) and Intuition, White Blossom 5800 (top) Door: ¾" Single Cell VertiCell Cellular Shade: Impresario, Sandstone Gray 0590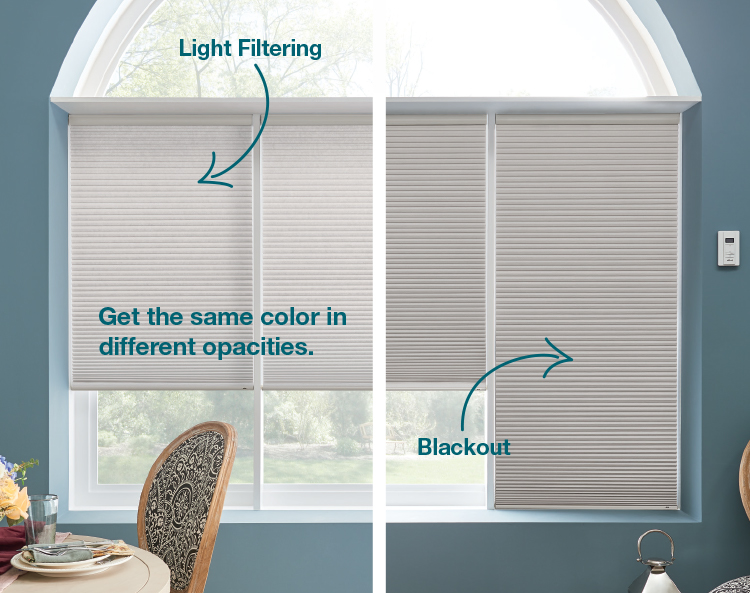 Previous Slide
Next Slide
Bali® Cellular Shades are designed with striking style and maximum energy savings in mind. The honeycomb shape traps hot and cold air that can escape through your windows—and saves money on your energy bills all year.
Our NEW Serenade collection of trend-setting designer fabrics features on-trend woven textures. These designer favorites look both elegant and serene in any room. With Bali Cellular Shades, superior* energy savings never looked so good!
Superior* energy savings. Bali Cellular Shades reduce heat transfer by up to 64%†! They block the sun's heat from your space in the summer and keep your home's heated air from escaping in the winter.
Premium fabrics. Our cellular shades are made from stylish woven fabrics and crush-resistant spunlace fabrics. The all-new, best-in-class fabrics are soft yet durable, for quality you can see and feel.
Easy style. Our honeycomb shades go well with any room style. Their crisp lines add a touch of dimension to any space. We worked with decor industry experts to ensure you'll find a color you'll love for years—no matter your style.
Right for every window. Windows come in lots of shapes and sizes. Bali Cellular Shades have them all covered. Shades can be made up to 144" wide and in almost any shape you can think of—from a circle to a triangle.
*Compared to non-cellular window shades
†Based on product testing by Architectural Testing Incorporated
Product Features

Energy Efficiency

Safe For Kids

Motorized Lift

Economical
Try Treatments on Your Own Window—Virtually
Simply upload a photo of your window and start designing—or choose from our portfolio of sample room scenes. Then preview your picture-perfect treatments.
Bali Visualizer

→
VertiCell Cellular Shades
When you find the perfect cellular fabric, use it for both your windows and your sliding glass door. Easily coordinate your open concept space—and lower your energy bills. Our VertiCell vertical cellular shades are made up to 192" wide to perfectly cover even the widest windows and patio doors. Bali VertiCell Cellular Shades are available in ½" double cell, ¾" single cell, and 1¼" single cell sizes.

Experience New Colors, Textures, and Styles
See it, feel it, fall in love with it! Start your project today with free color swatch samples.
Order Free Swatches

DIY at Your Fingertips: Measuring, Installation, and More!
Find out how simple DIY can really be.
Visit the How-To Center