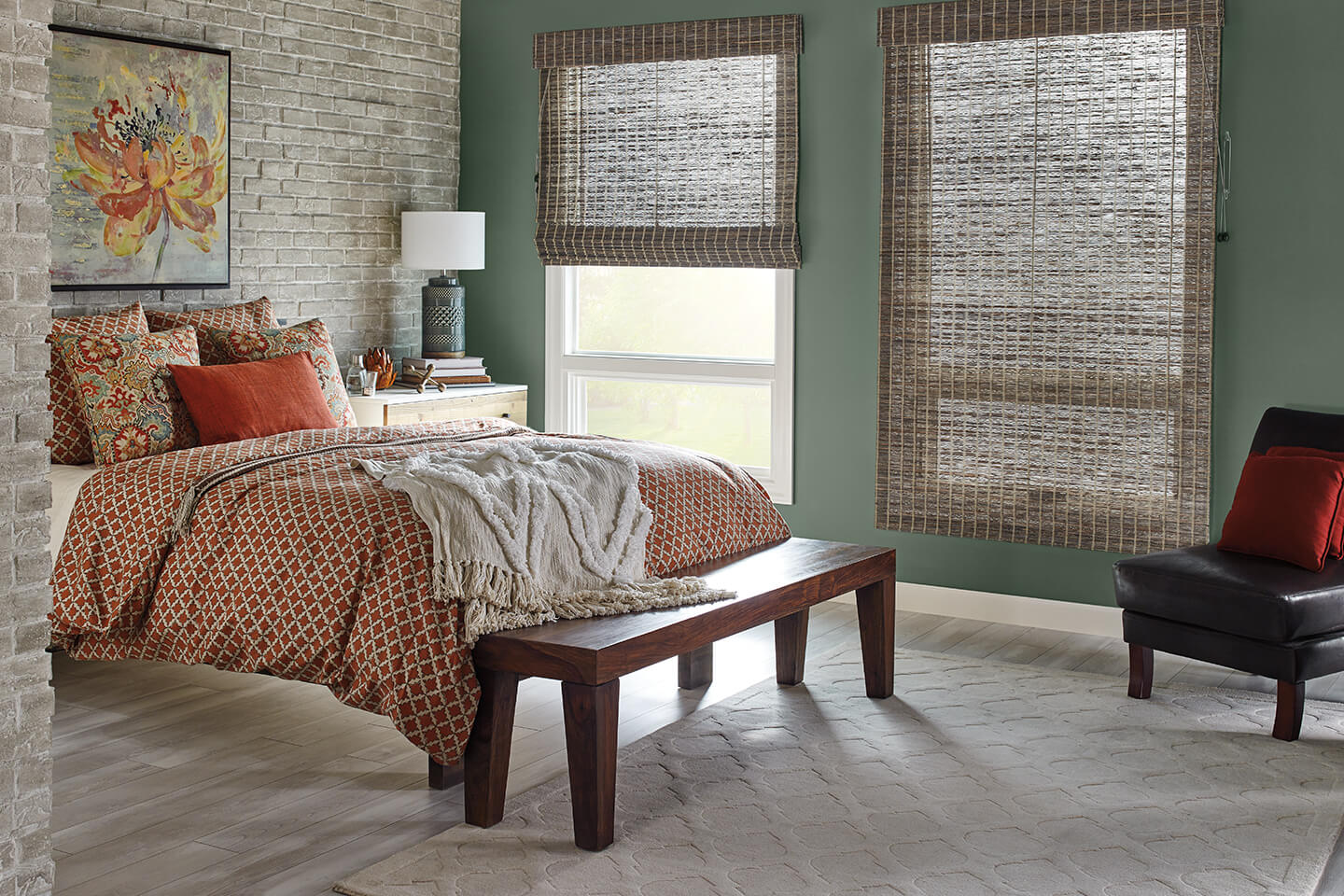 Natural Shades
Standard Roman Natural Shades with Motorized Lift: Trinidad, Owl 00846 with 1" Edge Banding: Taupe 7008 and 9" Standard Valance with Valance-Only Privacy Liner: Taupe 2659
Standard Roman Natural Shades with Motorized Lift: Resonance, Sugarcane 00116 with Privacy Liner: Snow White 2909, 2" Edge Banding: Vanilla 1171, and 9" Standard Valance
Standard Roman Natural Shades with Motorized Lift: Trinidad, Owl 00846 with 1" Edge Banding: Taupe 7008 and 9" Standard Valance with Valance-Only Privacy Liner: Taupe 2659
Standard Roman Natural Shades with Bottom Up/Top Down Cord Lift: Mindoro, Dawn 05040 and 6" Standard Valance with Valance-Only Privacy Liner: Taupe 2659
Standard Looped Roman Natural Shades with Cord Lift: Papua, Clove 17512 with Privacy Liner: Cocoa 2297 and 2" Edge Banding: Serpentine Cocoa 3003; 5½" Noble Wood Cornice: Peppercorn 1054
Windows: Standard Roman Natural Shades with Cordless Lift: Framework, White 80603 and 9" Cathedral Deco-Trim Valance with Accent Gimp: White 417. Door: Sliding Panels with Wand Control: Framework, White T0603 with 1" Edge Banding: Snow White 7170 and 9" Cathedral Deco-Trim Valance with Accent Gimp: White 417
Standard Roman Natural Shades with Cordless Lift: Lagoon, Cadet 85132 with Room-Darkening Liner: Cocoa 6297, 1" Edge Banding: Mink Gray 7174, and 6" Palisade Valance in Horizontal Orientation
Standard Roman Natural Shades with Cord Lift: Lagoon, Cadet 85132 and 6" Standard Valance with Valance-Only Room-Darkening Liner: Cocoa 6297
Previous Slide
Next Slide
Bali Natural Shades turn your room into a relaxing retreat, thanks to their unique weaves of renewable resources like bamboo, sisal, grass, and jute. With such a rich, exotic palette, natural shades make a statement that's impossible to ignore—and impossible not to love.
Natural shades bring both beauty and benefits to your home:
Sustainable style. Choose woven wood shades or woven wood blinds for their perfectly imperfect design variations. Or maybe the natural elegance of bamboo shades or bamboo blinds calls to you. Whatever material you choose, a full palette of globally inspired tones, colors, and styles is just waiting to add spice to your interior.
Distinctive design. With no two shades exactly alike, each window treatment becomes a unique work of art to show off.
Chic coordination. Multiple coordinating valance styles means you have the freedom to choose the perfect style to accent the beauty of your natural shades.
The raw-to-refined colors, textures, and dimensions of natural shades bring your home a comfortable atmosphere of effortless, cultured elegance.
Product Feature

Environmentally Friendly

Safe For Kids

Motorized Lift

Affordable

Experience New Colors, Textures, and Styles
See it, feel it, fall in love with it! Start your project today with free color swatch samples.
Order Free Swatches

DIY at Your Fingertips: Measuring, Installation, and More!
Find out how simple DIY can really be.
Visit the How-To Center